for PlayStation and PlayStation 2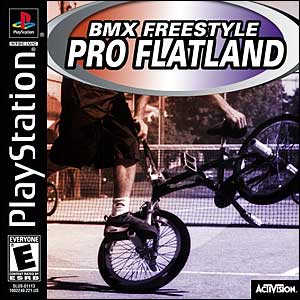 Finally! With the popularity of extreme sports video games at an all-time high, it was just a matter of time before the world of flatland freestyle got its own game! The people who brought you "Mat Hoffman's Pro BMX" have released "BMX Freestyle Pro Flatland", the most realistic — hell, the only — flatland video game.
We tested "BMX Freestyle Pro Flatland" on a PlayStation; I can assume that the graphics on the PS2 version are better. The game works similarly to Hoffman's game: you choose to be one of eight flatlanders, including Martti Kuoppa, Kevin Jones, Matt Wilhelm, Chad DeGroot, and Trevor Meyer. You work your way through different levels and competitions until you reach nirvana and eternal flatland bliss.
The gameplay is realistic: Your digital flatlander rides alone in a parking lot where you spend your time trying the same trick hundreds of times (usually over the course of several days) before you finally hit it — just like real life!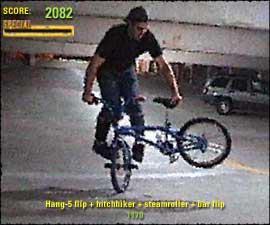 A screen from an early "BMX Freestyle Pro Flatland" level


There are many different flatland terrains in the game: parking lots (in daytime and under lights at night), basketball courts, parking garages, and tennis courts. And each level gets increasingly more difficult as the game progresses. Early levels have a flat, smooth surface. Later levels have rough pavement, slanted ground, cracks and bumps, sand, oily patches, and other perils at every turn — and that's not even counting the runaway cars in parking lots and the security guards kicking you out of garages!

There are three different competition levels pitting you against other riders. You get two 3-minute runs, plus a bonus round where you can complain and blame the judges if you don't win. Win ESPN medals to unlock special characters and new levels (such as the parking lot behind Queensgate Cinema in York and a parking garage in Germany).

There are other special features in the game, too, including a parking lot editor and the ability to design your own bike — take off brakes or add extra brakes, use a direct drive hub, or choose some ridiculous-looking flatland handlebars...the choice is yours!

"BMX Freestyle Pro Flatland" has no multi-player mode; like real life, you ride alone. And as far as music goes, there's no soundtrack to the game — you'll be wearing headphones while playing, of course.