Dorkin' in York 10
2001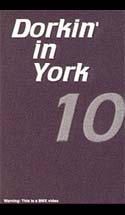 With Dorkin' in York 10, Mark Eaton went about trying to "capture the feeling of riding" instead of making a "best of" Dorkin' video, and I think he accomplished this quite well. The video has parts with Mark explaining the history behind the Plywood Hoods (the riders who "star" in the Dorkin' videos), and has footage from the early days (Hoods and non-Hoods, riding and breakdancing). Most of the older stuff is from previous Dorkin' in York videos (including old Velodrome and 2-Hip contest footage), and it'll bring back a lot of good memories for you older riders (like me). If you're a newcomer to riding, it might be interesting to see how things used to be.

Riders include the main Hoods — Eaton, Kevin Jones, Chase Gouin, Brett Downs, Mike Daily, and Dale Mitzel — as well as some of the many riders who have appeared in previous Dorkin's: Dave Mirra (who kids might be surprised to see flatlanding), Jay Miron, Joe Rich, Luc-E, Leif Valen, John Stapleton, and others.

Watching the old footage shows you how far ahead of their time Jones and Chase were. The more recent stuff proves that they're still progessing and pushing flatland forward. Chase's cross-footed jumplash combos and on-the-pedal rolling tricks — all done brakeless — is nothing short of amazing. Jones does many tricks he invented (which is almost all modern tricks), including a pedaling wheelie into a deathtruck on the pedal, never using the back pegs at all.

The editing throughout the video is great; older, classic stuff is nicely mixed in with newer footage. Musically, there are several "Eaton Mixes" throughout the video (only Mark can get away with mixing Big Daddy Kane into Steve Miller). Dorkin' 10 really does come off as a "riding video" rather than a video of riders and tricks. If that doesn't make a whole lot of sense, just see the video and you'll understand.