Flatland Manifesto issue 1
2001 - 40 minutes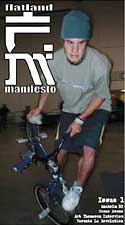 With flatland progressing faster than any other aspect of riding, it's hard to keep up with it all, especially with the limited coverage flatland gets in the media. This has inspired a lot of flatland-only contests, videos and websites, and now a flatland-only videozine: Flatland Manifesto ("The evolution will now be televised").

I was a little skeptical at first: how good would the quality be? For no good reason (other than my normal pessimism) I was expecting something of questionable quality, but I was pleasantly surprised at how well-done issue 1 was. The content is what you'd expect from a videozine: contest coverage, interviews, a scene report, and how-to's.

The contests covered were the Toronto La Revolution and Anahiem BS. Between them, there was some good footage of Jeff Desroche (crazy pedal steamroller/circle-K combos), Aaron Behnke, Hiro Morisaki, Yammer Yamamoto (really original stuff!), Trevor Meyer on a circus bike doing Quicksilver tricks, Dan Rigby, Alex Jumelin, and Martti Kuoppa (absolutely mind-blowing) ... among many othe riders. It gives a good overview of what's going on with flatland these days.

There were interviews with IFL organizer and old-school flatlander Chris Day, and rider Art Thomason (find out how an autographed photo almost got him busted with an underage runaway). There was also an Houston, Texas scene report (just two flatlanders in Houston?), and a couple how-to's (pinky squeaks and whiplashes).

Check out a preview on the

Flatland Manifesto website

.