Explorations
55 minutes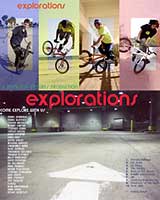 Explorations is one of those videos that I'm happy to say is helping to push riding videos past the days of simply adding music to video. The filming, music choices, editing, and effects are well done and professionally blended together — it's more closely related to Transworld's skating videos than to some other riding videos that I won't mention here.

The riding is flatland only, and has a nice mix of both new school and old school-influences (though there were too many freak squeak/funky chicken variations). The first couple sections of the video are interesting but not necessarily amazing (except for Bobby Carter's no-handed cross-footed hitchhiker). But the video starts getting interesting with Dylan Worsley's section and builds itself up with each one after that.

Once it gets going, Explorations doesn't let up much. The riders featured include guys you've probably heard of (Dylan, Stephen Cerra, Day Smith, Alex Jumelin, Gabe Weed, Ed Nussbaum, and Edgar Placencia), as well as riders you might not know but definitely deserve to be seen (like Takahara Kensaku, Dave McDaniel, Tanaka Kotaro, Paul Pagano, and Bobby Carter). As you'd expect after reading those names, there's lots of original riding, and the music — a good mix of styles, but mainly instrumental techno — flows well with the footage.

One of the pros and cons of Explorations is its length: at 55 minutes, you do get your money's worth, and since there are so many riders featured, there's not a whole lot of repetition. On the other hand, sitting still watching TV for almost an hour can make you pretty antsy — I imagine myself watching this video on a rainy day, rather than using it to get psyched to ride. Normally, I prefer a well-edited 30 minute video (and this is coming from someone who's made some pretty long videos in his day...) which seems to be a more digestable amount. Still, if Explorations is any glimpse of what Bobby Carter is going to produce in the future, definitley keep an eye on him to join the ranks of Eaton, Rye and Parrick.

The one biggest surprise for me was the shot of a shelf full of `zines, focusing in on an old print issue of Wire. People still have those things? Crazy...