Groundwork
About 20 minutes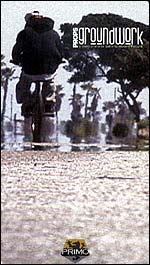 Props' first foray into the world of flatland-only videos is subtitled "A comprehensive guide to modern flatland." That's a pretty big claim, but whether Groundwork is such a guide or not, it's a damn good riding video with some of the best flatland riding you'll see today. The overall feel of the video seems to really push the stereotype (however true it may be) of the lone flatland rider practicing alone in a parking lot — a stark contrast to many street/dirt/ramp videos which usually has pretty good-sized groups of guys all riding together. The music for Groundwork is mostly mellow indie/emo rock, which provides an ample soundtrack — some might prefer louder and/or faster music to punch it up more, but this way the riding isn't overpowered by the music.

And the riding is the most important thing here. Riders include Brian Tunney (cool rolling around-the-front-of-the-bike tricks), Chad DeGroot (not riding any street this time around), Aaron Behnke, Brian Rybak (rad as shit front-wheel switch thing), Nate Hanson, Leif Valen (funny intro and big socks), Akiba Okamura, Michael Steingräber (smooth flowing links with those Vector-style bars), and Chase Gouin (insane brakeless back wheel stuff).

Dylan Worsley, formally known for crazy on-the-pedal tricks, is now doing stuff that'll make you say "Holy shit — what was that?!" Multiple cross-footed hitchhiker whips, rolling/flip tricks, and a forward-rolling backpacker whip thing are just part of his section. A brakeless James White does a halfhiker to half-kickflip to 1-handed forward karl kruzer. Unfortunately, a little too much of his section was shot in the dark — a cool silhouette effect, but kinda hard to see what's going on. Dan Rigby's section, the last of the video, will have you saying "What the f*ck?! Where did that hitchhiker come from?" His dumptruck directly into cross-footed inverted backwards wheelie to deathtruck walkover to stick-b was pretty rad, too.

The filming and editing is top-notch, as you'd expect from Props. About the only bad thing is the length: at 20 minutes is seems a little on the short side (you definitely want more). On the other hand, Groundwork is all riding — no filler or useless crap, so it's a solid 20 minutes.