Modus Operandi
2001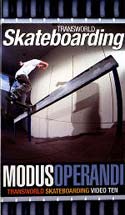 My favorite video right now isn't even a riding video: it's Transworld Skateboarding #10, Modus Operandi. Skating's rad, and this video has some incredible stuff from Marc Johnson, Brian Anderson, Mike Carroll, and Chany Jeanguenn (among others). There's burly leaps down stairs and off ledges, crazy gaps, and sick handrails (the long-ass handrail in the intro is so rad). But I prefer more technical stuff (probably because it's more similar to flatlanding — which I do) and this video's got plenty of that, too; crazy manual, grind and kickflip combos that I didn't think were possible outside of a video game.

But probably the main reason I like Modus Operandi so much is the quality. The editing is so good and spot-on. I could watch this video's opening over and over — I never get sick of it. Everything goes with the music, right down to when they land a trick. The filming, cinematography, and music throughout the video are all great as well.

The only real complaint about Modus Operandi is this: it's ruined most other videos for me. I have a hard time watching riding videos (except for Nowhere Fast, Props productions, and Mark Eaton films) without thinking it's not up to snuff. That may be unfair to the kid making a video (as opposed to someone with editing experience and pro level equipment), but it sure shows what kind of stuff you could be getting for your money. Check out Modus Operandi if you can, even if you don't skate.